The Dolly's Dream Community Sports Club Program Ambassadors
"The Dolly's Dream Community Sports Club Program is a great way to educate members and players about bullying, cyberbullying, and the importance of being kind."

"Let's make young people in sport feel safe in a positive and inclusive environment."

Maddi and Teagan Levi - Commonwealth Games Gold Medalists (Rugby Sevens)


What is the Community Sports Club Program?
The Community Sports Club Program is a way for grassroots community sports clubs to support Dolly's Dream through awareness-raising and fundraising activities to foster a positive and inclusive club culture.
Partnering clubs will be equipped with resources and a values-based framework to educate their players and members about preventing bullying and cyberbullying and the importance of being kind.
How will your club benefit?
Partnering clubs will be recognised as having a zero-bullying policy.
Clubs will be aligned with a reputable anti-bullying organisation.
Clubs can refer to the Dolly's Dream code of conduct to help address bullying issues on and off the field.
Full access to a dedicated Dolly's Dream team member.
Clubs will be given access to digital resources to help educate players and members about Dolly's Dream anti-bullying programs.
What do clubs need to do?
Partnering clubs will be required to complete an application process, sign the Dolly's Dream code of conduct and agree to the below actions to be part of the program
Participate in Do It For Dolly Day by holding a Dolly's Dream round, fundraising activity, or event.
Educate all players and members about the vital work Dolly's Dream does to create positive change within the community
Promote Dolly's Dream anti-bullying programs to club players and members
Annual financial commitment through club fundraising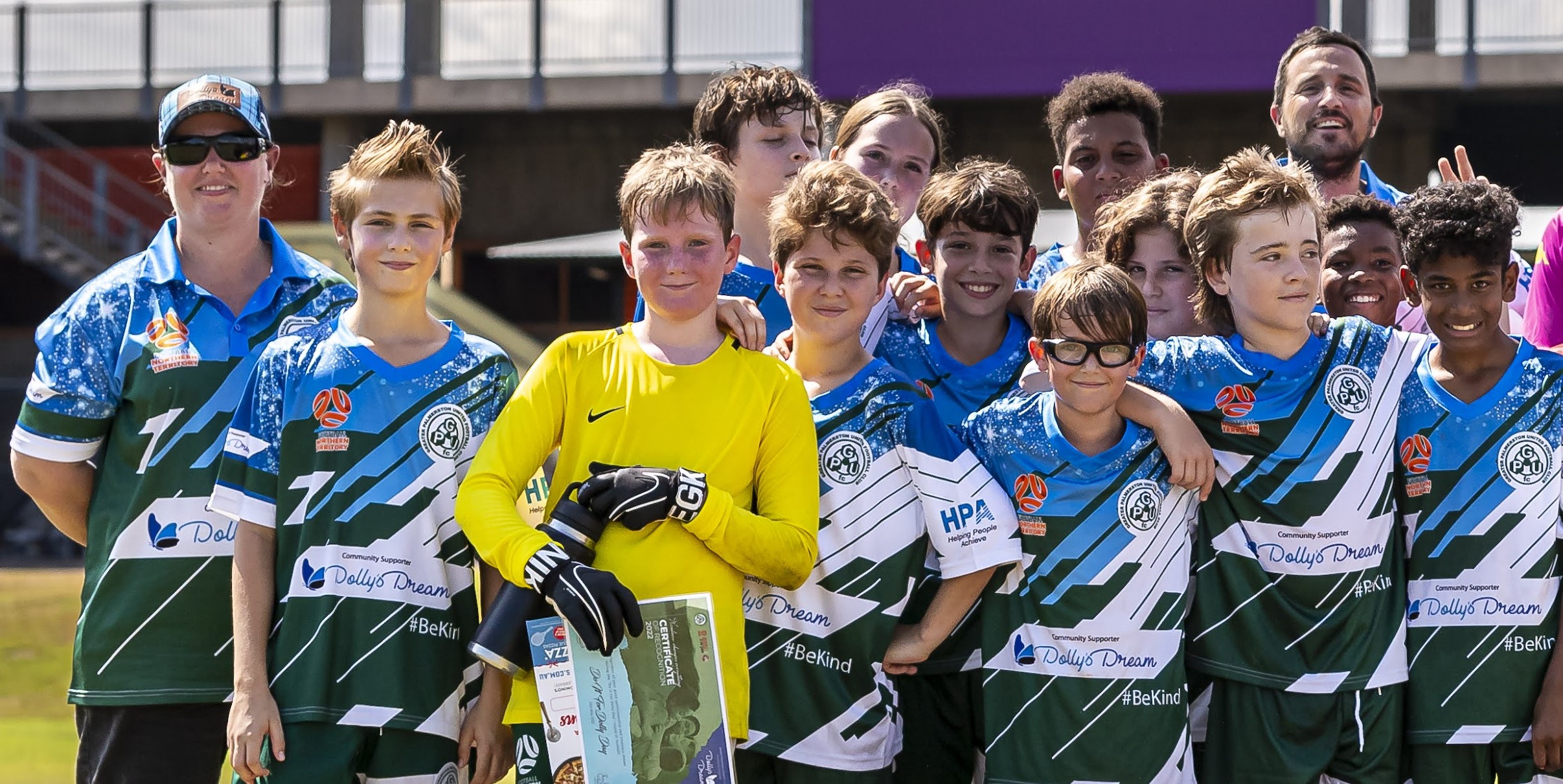 Greater Palmerston United Football Club
"We chose to support the Dolly's Dream Community Sports Club Program as it is important for clubs to be proactive in modelling good sportsmanship, behaviour and kindness. We are a junior club with members from 5 to 14 years old, so we chose the message 'Kindness changes Everything'.
With the support of Football NT, we held all our Club games at Darwin Football Stadium in a Do It For Dolly Day round of football. We raised money through the Canteen, Raffle tickets and donations. In the spirit of kindness and good sportsmanship, we had all our teams, and opposing teams award a player on the opposite team a Certificate of Sportsmanship.
The Do It For Dolly Day round was a huge success. The shirts were a big hit, and we had parents asking if they could buy one! Overall we raised a total of $3,056!
We plan to make our Do It For Dolly Day of football an annual event. With the support of Football NT, we will be sourcing grants to help push the Dolly's Dream message. With the approval of Dolly's Dream, we will again create playing jerseys and coaching shirts so that when the day is over, our players will still have a constant reminder of 'Kindness'."
- Melissa Schultz, President
Is you club holding a Do It For Dolly Day round in May?
The Dolly's Dream sports socks are perfect for selling as a club fundraiser or for your players to wear if your club is hosting a Do It For Dolly Day round in May.
Dolly's Dream sports merchandise
Our official merchandise stockist, Bairnsdale Horse Centre, now stocks a range of Dolly's Dream sports clothing and accessories.
Access all the resources you need to get started. Once you have registered your club, we will send you more resources for your club newsletter.